For all Action Day Students
We know that the right foods can make all the difference in a child's day. Our in house hot lunch program is equally delicious and nutritious, as our kitchen staff prepares each meal with balanced food groups every day. Action Day Schools uses EZ School Apps for convenient online ordering, with the helpful option to pre-order up to a month in advance.

Not looking for hot lunch? No problem. We also have refrigerators and microwaves available if needed for students who bring lunch from home, as well as designated snack times for all kids to recharge.

Everyone loves a home-cooked meal made with some good old-fashioned TLC. Whether students bring their lunches or order from our menu, that's exactly what they'll get.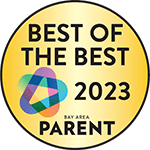 Experience our vibrant school life at a campus near you.