Since 1968 the health and safety of our students and staff has been a priority, and we are committed to providing a healthy environment for children.
Action Day is trusted by our parents and community to care for their children.
All of our schools follow our health and safety protocols including:
We monitor for symptoms during each child's day at Action Day and notify parents when a child is not feeling well.
Low Teacher-Student Ratios
We practice physical distancing by reducing classroom sizes, limiting contact between students, keeping consistent groups, limiting outdoor play areas to one group at a time, and limiting drop off and pick up to the classroom door only.
We have a strict medicine policy and request that you complete a Medicine Authorization Slip the morning of each day your child requires medicine, along with a doctor's notification.
We require that all visitors sign-in at the school's main office before entering the sites. You are also required to sign your child in and out through the SmartCare App.
Only pre-approved people with photo identification may pick-up your child.
Our staff and teachers are dedicated caregivers who are trained in child development or have experience working with young children.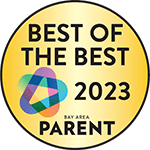 Experience our vibrant school life at a campus near you.