A 'family-like' environment
Our goal is to allow children the opportunity to expand their knowledge by offering a program with strong academics and exciting extracurricular activities. We are proud of our caring, innovative and committed staff, who carefully challenge, respect, encourage, and nurture each child as a unique individual.
It is our sincere desire to provide each child with an environment in which he or she will grow and develop to their fullest potential – intellectually, socially, physically, and emotionally.
Daily Schedule
Academic Calendar
Meals and Nutrition
Health and Safety
Quickschools
Fall Packet and School Supply List
Daily Schedule
Daily Schedule
As kids grow through Middle School, their schedule slightly changes from grade to grade.
Academic Calendar
Meals and Nutrition
Health and Safety
Quickschools
Fall Packet and School Supply List
Life Skills Program
Our Life Skills Program serves to teach our students good character skills such as responsibility, integrity, and perseverance. Each month, students learn a different Life Skill and then one student is chosen from each grade level who best exhibited those Life Skills traits. Students are awarded with a Life Skills Certificate and attend a special luncheon with the Principal.
Student Council
Student Council offers students leadership opportunities and allows them to identify, discuss, and solve Middle School issues and plan upcoming events. Each fall, students elect a Student Body President, Vice President, Treasurer, Secretary, and Class Representative for every grade level. Meetings are held once a month.
Community Service
In an effort to provide hands-on educational experiences to our students, West Valley Middle School requires 6-8th grade students to obtain five hours of community service per quarter. Several school sponsored community service activities are offered throughout the school year. Sixth grade students are permitted to complete their hours of service on school grounds, while seventh and eighth grade students are encouraged to perform services offsite to better their communities.
Look forward to our tradition of major field trips during the first and last year of West Valley Middle School.
Students have the opportunity to travel to Washington DC and New York City during spring of their 8th grade year. On this week long eduational trip, students will grow academically and socially, but most importantly, students will make memories that last a lifetime!
Students in fifth grade get to enjoy four days of outdoor classroom opportunities! Students will stay at the beautiful Walden West Cupertino site experiencing the scientific world around them while developing deeper friendships with their classmates.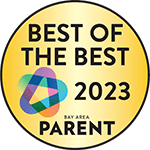 Experience our vibrant school life at a campus near you.