Action Day School operates on a non-discriminatory basis. Each child is respected as an individual without regard to race, color, religion, national origin or ancestry. Special needs children will be admitted on an individual basis.
One of the key differences in our philosophy has been the importance we place on finding the right teachers and staff to enrich the school environment. We believe that it's the adults that set the stage for holistic success and are proud that our carefully chosen staff truly care about children. It is pivotal that when each child enters the school environment, he or she finds an adult who truly cares for him or her.
It is our hope that each child will leave at the end of the day feeling better about themselves, equipped with the knowledge that they can accomplish tasks that they couldn't do when the day began. We endeavor to provide an environment that produces emotionally fulfilled and academically capable students.
Our schools' doors opened in 1968 with the desire to celebrate and grow a child's sense of marvel and curiosity. Our founders recognized the tremendous learning that happens during a child's development and sought to provide programs that capitalized on this curiosity to promote emotional, physical, and social growth. We believe our whole child approach has far reaching influence that drives multi-faceted success that endures through elementary school, middle school, and even adult life.
Over all the years of operation, we have maintained a philosophy that encourages what we call a "semi- structured program." Teachers set specific goals for each child that responds to their academic and emotional needs The children are "led to" not "made to" take part in these activities. We feel that this semi-structured program optimizes individual growth and promotes intellectual freedom.
We create excitement for learning in a fun and loving environment.
Quality
Professional, Consistent, Hard Working, Customer-Focused
Community
Unity, Team Work, Family, Respect
Trust
Reliable, Accountable, Honest, Integrity, Communication
Dedication
Heart-Centered, Loyal, Passionate, Growth & Development Oriented
Fun
Enthusiasm, Loving, Humor, Creative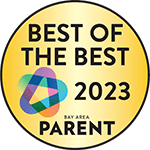 Experience our vibrant school life at a campus near you.